Race calendar for the 2018 season: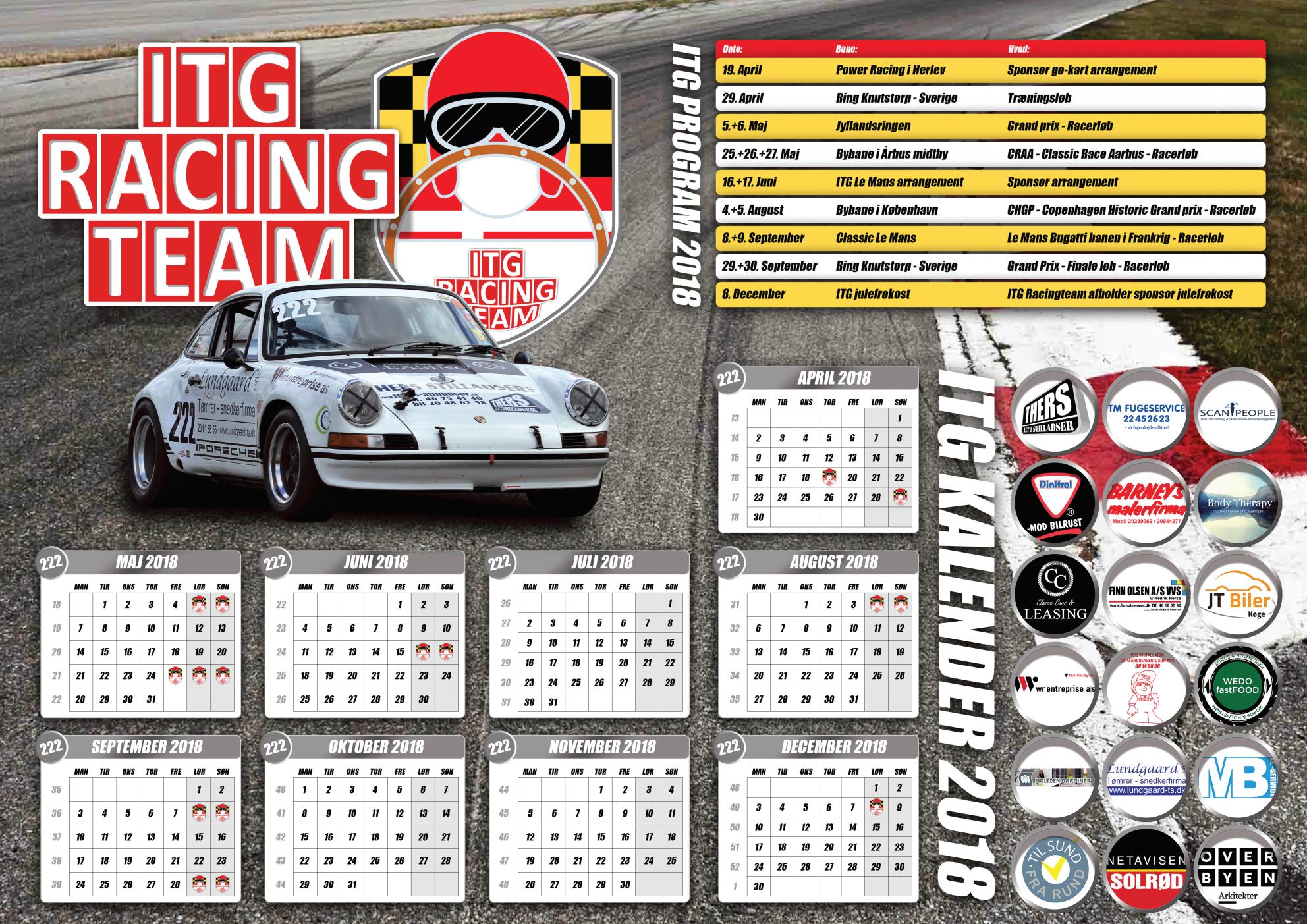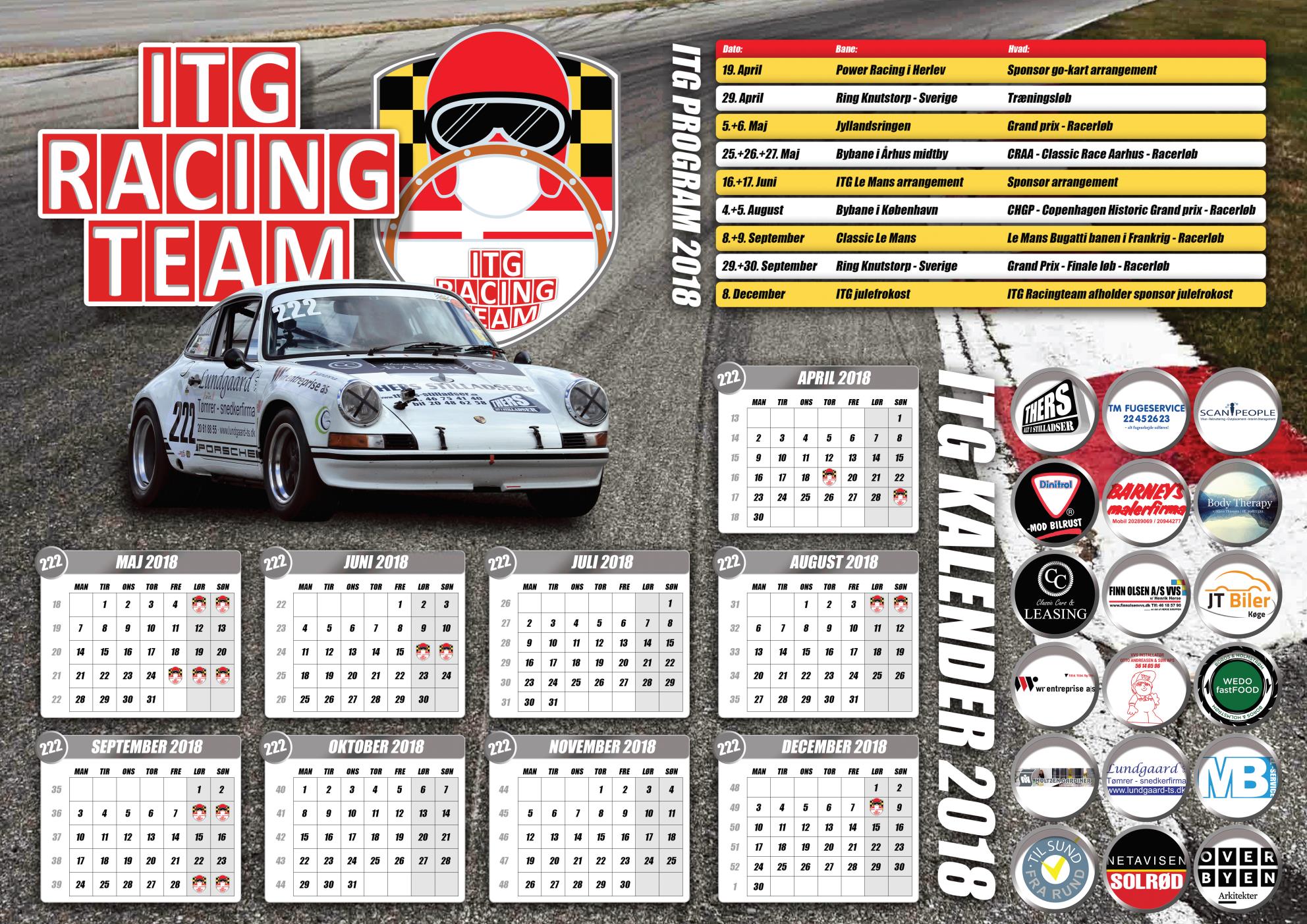 2018 Season - First race of the year - Jyllandsringen.
A racecar, a bus, and the ITG team departed Friday at noon to arrive at Jyllandsringen Friday evening.
However, it would turn out to be a bummer of a weekend. Despite a succesful test before Jyllandsringen, the new engine was not cooperating!
First, the generator died. Next, it would only run on 5 cylinders, and finally, the ignition broke. There was definitely room for improvement!!
We managed to complete the time trial, but the ITG Racer would end up forfeiting all 3 heats. Bad luck!
This was not the start to the season we had hoped for!
Luckily, the weather was great – thanks to all sponsors, friends etc. who stopped by.
Check out images below from Jyllandsringen.
2018 Season - CRAA - Classic Race Aarhus.
Classic Race in Aarhus took place from Friday, May 25 to Sunday, May 27, 2018.
Time trials began on Friday and the team set a best lap of 1:29,911. This was 0,76 second faster than last year and resulted in a starting position of 8 in the first heat.
Heat 1 was off to a bad start and the ITG Racer fell back to 10th position. We managed to climb back up and finished 6th overall and 3rd in the class with a best lap of 1:30,327.
The team was up nice and early Saturday morning as heat 2 was due to start at 8.15AM. We started in 10th and the race had same good passings, which meant we finished 8th overall and 6th in the class with a best time of 1:30,377.
Third and final heat was driven on Sunday afternoon at 3.15PM with the ITG Racer starting in 11th position.
ITG Racer – as well as driver – were ready to show what they were made of. So as the race began, the ITG Racer flew past the competitors and finished in 6th overall and 3rd in the class with a best lap of 1:29,305.
ITG Racingteam finished 5th overall in the class, which was satisfactory.
Check out images below.
2018 Season - Copenhagen Historic Grand Prix - CHGP.
This year, ITG-Racingteam participated in Copenhagen Historic Grand Prix (CHGP) again. It took place on the weekend of August 4-5 around Grøndalscentret in Bellahøj, Copenhagen.
Time trials took place Saturday morning where we set a best lap of 1.22,164, and qualified 9th overall, which the team were happy about.
Heat 1 was on Saturday afternoon and the ITG Racer started in 9th position. We were off to a bad start and fell back to 14th. Afterwards, the chase was on to catch up with the rest and we finished 8th with a best lap of 1.20,024.
Sunday morning heat 2 was on. The ITG Racer started in 8th place and again we had a bad start, which meant we were back to 11th after turn 1. After a long and intense chase to catch up with the ones in front we climbed back to 5th with a best lap of 1.19,916.
Third and final heat too place Sunday afternoon and we started in 5th. The start was good, but despite given it all we had, we had to make due with 5th place.
The overall result of CHGP was a nice 5th place finish. ITG Racingteam are satisfied with the efforts and the result of the weekend. Thank you to everyone who stopped by to support and help out during the weekend.
Check out images from the weekend below.
Le Mans Bugatti - 2018 Season.
ITG Racingteam at Le Mans.
The 2018 season was the first season where we also headed for the international race tracks.
At the beginning of the year, ITG Racingteam were contacted about trying some of the well-known tracks outside of Denmark. After a brief moment of thinking, the team accepted to go racing at Le Mans.
The Le Mans Bugatti track is found in France – 1.387 km. from home. It is home to the famous 24-hour race, where all the famous racedrivers have made a name for themselves; from Jacky Ickx to our 9-time champion: Tom Kristensen. Now it was our turn!
Wednesday, September 5th at 2PM, the ITG Bus departed for France, where the team arrived Thursday evening. Technical checks and drivers' meeting took place Friday morning and at 2.20PM it was time for 25 minutes of practice on the track.
The track is 4.2 kilometres in length and thus, somewhat longer than the Danish tracks ITG Racingteam had driven in the past. That meant that racecar as well as driver had to find their rhythm.
Time trials began at 3.30PM, which meant that there was only just time to refill the racer and then it was back out onto the track again to set the best lap of the day. ITG Racingteam qualified 31st overall and 12th in the class out of nearly 50 cars on the track. Best lap: 2.09.576.
On Saturday, September 8, heat 1 was scheduled. The ITG Racer started in 31st overall and was off to a great start and climbed to 25th. After 30 minutes of intense battle the brakes overheated, which meant the racer had to slow down and ended up finishing in 35th overall and 14th in the class.
Second heat on Saturday saw ITG starting in 35th and again the heat started off well. This time the brakes were spared and 30 minutes later the ITG Racer finished 27th overall and 11th in the class.
Third and final heat took place on Sunday and ITG Racingteam were excited and ready. ITG Racingteam started 27th overall and again we were off to a great start. Half an hour later, the best lap of the weekend was in the books – 2.05.074, which was 4.5 seconds faster than during qualification. The result was a 25th place finish – 9th in the class.
Sunday afternoon we started the journey back home and we would like to thank our crew and Le Mans for a suberb experience.
Finally, a huge thank you to all our sponsors who made this trip possible.
See images from the weekend below.
2018 Season - Final race at Ring Knutstorp.
Friday, September 28, ITG Racingteam set the course for Ring Knutstorp in Sweden to race in the last race of the 2018 season.
Saturday morning, we passed technical checks without any remarks. Afterwards, we set a time of 1.10.902 during time trials, which was good enough for 13th place.
On Saturday afternoon, heat #1 took place. The ITG Racer had a good start and was briefly in 9th place, but a mechanical failure on the last lap put a halt to our progress and we had to limb to the pit and exit from the heat with a best lap of: 1.10.006.
Heat #2 took place Sunday at noon. The failure had been fixed and ITG Racingteam were ready. A 11th place start was exchanged for a 7th place finish overall and 4th place finish in the class. The best lap was 1.10.125, which the team were satisfied about.
The third heat – and final heat of the 2018 season – was driven Sunday afternoon. ITG started in 9th and had an amazing start, which meant we were up to 7th before a brake failure saw the ITG Racer finish 9th overall and 5th in the class. Our best lap was 1.09.384 – the best lap we have ever had at Ring Knutstorp.
Overall, we finished 6th in the final race at Ring Knutstorp.
Check images and video below.
The annual Christmas dinner of ITG Racingteam - Saturday, December 1, 2018.
The last event of the year was the annual Christmas dinner for sponsors.
All sponsors were picked up at their homes in the ITG Racingteam bus, which headed towards Power Racing in Herlev. Each of the sponsors received a helmet and a go-cart. The races were close and finally the top 3 were crowned.
Next, we head to the ITG Racingteam Casino, where to skilled dealers introduced us to blackjack and the roulette. We played for 3 hours, after which the winner was found.
We finished off at a local restaurant in Solrød where we had a nice Christmas dinner and enjoyed great company until the late hours of the night.
Thanks a lot to all sponsors – everyone who participated – and everyone who helped out and supported.
See the images from the day below.