Historien:
Efter en årrække med deltagelse i historiske klasser i Europa, fandt ITG-Racingteam ud af, at den 6-cylindrede motor er et smukt og slidstærkt stykke ingeniørkunst.
Men mere end45 års brug sætter sine spor på dele, der er svære at opstøve. Specielt på motorblokken, der er lavet af magnesium og aluminium.
ITG-Racingteam brugte meget tid og energi på at finde en brugbar aluminium og magnesium motorblok, og da det lykkedes, var der meget maskinarbejde i at få rettet dem op, så det blev en brugbar motorblok igen. Det var altid den sidste del, der var det dyreste.
I 2016 begyndte ITG-Racingteam at observere, at de originale motorblokke blev mere og mere skrøbelige, og revner kom hyppigere efter 1–2 racingsæsoner.
Der skulle gøres noget og ITG-Racingteam kiggede markedet igennem for at finde en leverandør med nye højtkvalitetsmotorblokke.
Det eksisterere ikke og ITG-Racingteam tog kontakt til "Historical Committee Europe" (under FIA) og forespurgte om det var muligt at reproducere motorblokkene samt stadig kunne blive godkendt til at deltage i FIA løb samt få stemplet "HTP" – Historic Technical Passport. Det bliver brugt i Europa som et "stempel" på, at bilen indeholder alle de korrekte og autentiske dele i klassen.
Den Europæiske Historiske kommitté svarede: Ifølge reglerne "Hvis en del ikke kan blive fundet og ikke længere bliver fabrikeret eller solgt fra fabrikken, så må en tilsvarende del blive produceret med samme dimensioner, udseende og funktion."
ITG-Racingteam tog straks arbejdshandskerne på.
Billeder: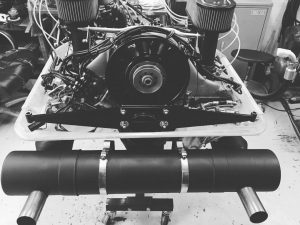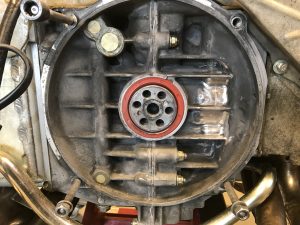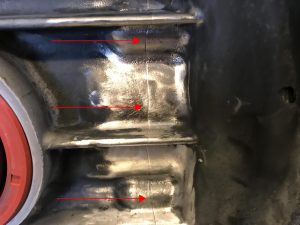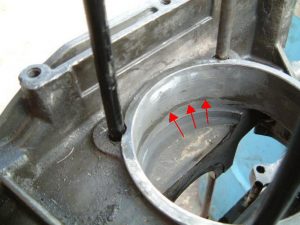 Nye motorblokke – Visioner og udvikling:
Nye motorblokke – Visioner og udvikling:
Efter flere års racingerfaring, ville ITG-Racingteam have bygget deres viden ind i designet og funktionaliteten af deres nye motorblok.
Derfor blev der udviklet en kravspecifikation med vægt på høj kvalitet:
Nye motorblokke, der produceres i aluminium.
Nye motorblokke med tilsvarende dimensioner, udseende og funktionalitet.
De nye motorblokke skal være stærkere og mere slidstærke end OEM.
De nye motorblokke skal kunne bruges uden yderligere maskinarbejde.
Ekstra styrke omkring cylinderområdet for at give mere cylinderstabilitet.
De nye motorblokke skal kunne the 66mm modvægt eller krumtappe uden modvægt.
OEM lejer skal kunne bruges i de nye motorblokke.
Der skal ikke være brug for "casesavers" eller anden forstærkning på motorblokken.
Nyt design med shuffle pins, efter racingerfaring.
Nyt design uden behov for olieomledning, efter racingerfaring.
Nyt design med OEM "oil squirters" efter racingerfaring.
Nyt design klar til GT3 – turbo oliepumpe efter racingerfaring.
Nyt design på Oil Gallery skruelåg – nemmere at rengøre.
Nyt design med indbyggede finner i bunden af blokken (RSR).
Nyt design med beslag til mekanisk benzinindsprøjtning – MFI. – Ingen brug for svejsning.
3 Forskellige head stud størrelser- bestil efter dit behov – næsten alle OEM toppe og cylindere er kompatible.
Forskellige styretappe størrelser – bestil efter dit behov.
Billeder: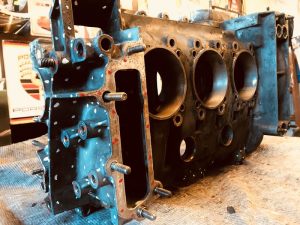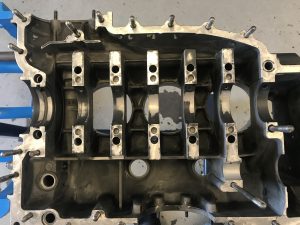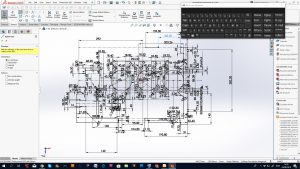 Production:
Using all EN AW 6082 A- Heat treatable alloy also used for Heavy duty structures inside the Marine and offshore.
Milled from one piece solid block 67 kg. – 148 lb. block. to 16 kg. 35 lb.
Choosing a model:
The ITG-Racing-Monza® engine cases will be offered for sale in three different models:
The ITG-Racing-Monza® – Model ST 80
The ITG-Racing-Monza® – Model ST 83
The ITG-Racing-Monza® – Model ST 86
The modelnumber refers to head stud spacing as the model 80 has the 80mm. head stud spacing – the model 83 has the 83mm. head stud spacing and the model 86 has the 86mm. head stud spacing.
Here is The ITG-Racing-Monza® – 80:
Measurement center to center: 80mm.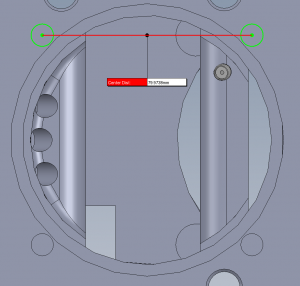 Choosing a model and Spigots size depends on choice of heads and final displacement.
Guideline head spacing:
The 2.0 – 2.7: 80mm.
The very first 3.0RSR: 83 mm.
The 3.0 – 3.2: 86mm.
Case numbers – Every ITG-Racing-Monza® case is delivered with a prestamped case number:

*ITG-RM ST80 XXXX*
ITG-RM = Name of the case: ITG-Racing-Monza®.
ST80 = Name of the Model: ST  with 80mm head stud spacing. – This will be variable from each model.
XXXX = Production number.
Prestamped on right side:

B1 12/18  – B1 = Billet case – Version 1. – 12/18 = Date of production – Month: 12 – Year: 2018.
How to order:
Click on "Place your order ITG-Racing Monza® case" button.
Download the ITG-Racing Monza® order form.
Fill in your contact details.
Select ITG-Racing-Monza® model.
Fill in your information about Inner spigot diameters in millimeter.
Select Shipping to your destination.
Select Payment.
Type your notes
Read terms.
Email or scan order form to email: monza@itgracingteam.dk
ITG-Racing Monza® case are currently in the testning fase and are expected to be put for sale in 2019.
Despatch & Delivery Information:
All received paid orders will be despatched within 5 weeks.
We only despatch complete paid orders.
Please note Saturdays, Sundays and Bank Holidays do not count as a working day for despatch or delivery.
Should you not receive your item within the specified time, please contact us through the email and we will look into this, however we would ask you to please allow suitable time for delivery as delays in the delivery process can occur i.e. weather conditions, holidays etc.
Please note, in all circumstances, once goods leave our premises, the service passes over to the carrier or other selected service so we would ask you to please understand that missed deliveries, lost parcels, damaged items etc. are beyond our control.
Warrenty:
Warranty does not cover damage caused by accident, improper care, negligence, normal wear and tear or the natural breakdown of colors and materials.
Any part that, in our opinion, was used, installed, handled, packaged, or shipped improperly by the customer will not be eligible for exchange, refund, or warranty.
We reserve the right to charge a restocking fee or refuse any exceptions.
Parts used for racing or competition are warranted against manufacturing defects only.
They are not warranted for wear or breakage under any circumstance.
In order to use the warranty, you should contact the dealer or us (retail outlet or website) from which you made your purchase.
Any defects or errors in the delivered goods shall be reported to  ITG-Racing-Monza® immediately in writing, and no later than seven working  days after the defect was or ought to have been discovered.
Defects or errors notified to  ITG-Racing-Monza® later than 3 months after the date of delivery may under no circumstances be made the subject of a claim.
The warranty is valid only upon presentation of the proof of purchase or copy hereof consisting of original invoice or sales slip indicating the date of purchase, model and serial no. of the product.
 ITG-Racing-Monza®  reserves the right to refuse warranty if this information has been removed or changed after the original purchase of the product.
Terms of delivery:
On receipt, the Buyer must examine the goods.
Any deviations from the confirmation of order shall be notified to  ITG-Racing-Monza® immediately by mail.
The person receiving the goods must note any damage or short quantities on the freight note before acknowledging receipt.
The Buyer may not assert any claim for deviations which ought to have been discovered in this examination and/or notified to  ITG-Racing-Monza®.
Unless otherwise agreed, delivery of the goods shall be effected within a reasonable time after the issue of the confirmation of order, taking into
account  ITG-Racing-Monza®s delivery capacity at any time.
Return Policy:
The items cannot be returned if:
Any product that appears to have been used.
Any part that (in our opinion) was used, installed, handled, packaged, or shipped improperly by the customer.
Custom ordered parts.
If your order included any "special offer" or "free parts", they must also be returned or the value may be deducted from your refund.
All returns are subject to inspection.
Parts returned more than 30 days from the purchase date will be subject to a Restocking Fee.
 ITG-Racing-Monza® obligations are limited to repair of the defect or replacement of the defective part or at its discretion replacement of the product itself.
Warranty repairs must be carried out by  ITG-Racing-Monza®
Personal Data Protection:
When you order from our website you have to enter your name, surname, address, email address and a phone number. This information is necessary for us to know who is the buyer of our products and where to deliver the ordered products. We keep this information in a safe database just to know who are our customers, what and when they ordered on our website.
For example to know if the product is still covered by our warranty or have the coverage finished.
We don't share this information with any third part exept the shipping company and will not use it for marketing.
European General Data Protection Regulation gives customers the right to request to delete details about them that a vendor might store in their database, therefore if you would like to request this, please do so at any time by email.
Why the name: ITG-Racing Monza®
Please read the full article below from Randy Leffingwell.
Engine type number: 911/20 = injected 911/22 = Webers
Displacement: 2,247cc (85mm bore x 66mm stroke)
Engine case material: magnesium Output power: 230 PS at 8000 rpm
Valve diameter intake/exhaust: 45mm/39mm
Valve lift intake/exhaust: 12.1mm/10.5mm